A fragrant fruit blend
Servings
2 persons,
Cooking time:
5 minutes
Ingredients
100 g watermelon (no rind)
10 strawberries
150 cl ice cold orange juice
1 teaspoon balsamic vinegar
Directions
Dice the watermelon and clean the strawberries.
Add all the ingredients to the blender and blend on MAX for at least 1 minute.
Serve chilled for a spicy, refreshing drink.
5 minutes preparation time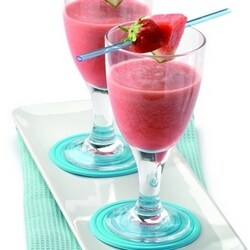 Our site can best be viewed with the latest version of Microsoft Edge, Google Chrome or Firefox.