A little nutty...
Servings
4 persons,
Preparation time
25 minutes,
Cooking time:
0 minutes
Ingredients
3 sweet potatoes (500 g), peeled
2 tablespoons nut oil
salt
pepper
chilli powder
250 g cherry tomatoes, halved
75 g rocket
30 g alfalfa
3 tablespoons pine nuts
Directions
Halve the sweet potatoes and slice into slim wedges. Mix with one tablespoon of nut oil and season with salt and chilli powder. Tip the wedges in steaming tier 1. Set the timer for 15 minutes and cook until tender. Let the potatoes cool off.
Make a dressing out of vinegar, olive oil, 1 tablespoon of nut oil, salt and pepper.
Mix the potato wedges, tomatoes, rocket, alfalfa and dressing in a large bowl and sprinkle with pine nuts.
Total preparation time approximately 25 minutes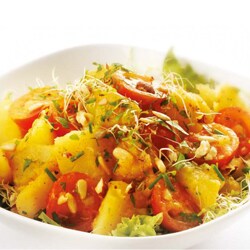 Our site can best be viewed with the latest version of Microsoft Edge, Google Chrome or Firefox.