Side dish – 4 portions
Servings
4 persons,
Preparation time
30 minutes,
Cooking time:
8 minutes
Ingredients
300 g starchy potatoes, peeled and cubed
1 egg yolk
50 g Parmesan cheese, grated
2 tablespoons flour
Freshly ground pepper
Nutmeg
50 g bread crumbs
Directions
Boil the potato cubes in salted water for 15 minutes until ready. Drain the potatoes and mash them finely with a potato masher or a ricer. Allow the mashed potatoes to cool.
Add the egg yolk, cheese, flour and chives to the potato puree and mix well. Season to taste with salt, pepper and nutmeg.
Preheat the AirFryer to 200°C. Mix the oil and the bread crumbs and keep stirring until the mixture becomes loose and crumbly again.
Shape the potato puree into 12 croquettes and roll them through the bread crumbs until they are completely coated.
Put six croquettes in the fryer basket and slide the basket into the AirFryer. Set the timer to 4 minutes and fry the potato croquettes until they are crispy brown. Then fry the rest of the croquettes.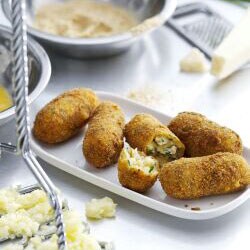 Our site can best be viewed with the latest version of Microsoft Edge, Google Chrome or Firefox.