Pumpkin and cumin soup
Servings
6 persons,
Preparation time
10 minutes,
Cooking time:
40 minutes
Ingredients
500g pumpkin
1 onion
2 cloves of garlic
3 tablespoons of olive oil
1 tablespoon of ground cumin
2l chicken stock
1/2 lemon
Directions
Peel the pumpkin, remove the seeds and slice into large chunks. Finely chop the onion and garlic.
Pour the chicken stock onto the vegetables in the saucepan and bring to boil. Leave to simmer for 30-40 minutes. Puree the soup in the saucepan with the hand blender. Add lemon juice, salt and freshly ground pepper to taste.
Heat the olive oil in a large saucepan. Gently fry the onion and garlic until light brown. Add the cumin and pumpkin pieces and bake the mixture briefl y until the cumin aroma becomes stronger.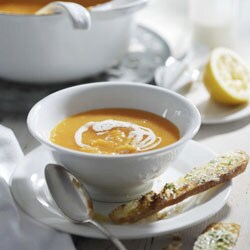 Our site can best be viewed with the latest version of Microsoft Edge, Google Chrome or Firefox.